Ribbon cutting, raffle for Pushead v2.0 Dunk SBs, free draft beer and Sabrett hotdogs, visit from Converse, Vans and Nike, vintage Hennessy XO and lots of skating (in the store). Just another typical
we Legendary
event.
Yes, we fancy.
Fo' lyf
You should see how big this flower arrangement is
Free dogs!
One more reason to visit wL Taft. Vans!
Welcome
Vans, Vans and more Vans.
wL and Ivex tees
Look closely
Animo!
Ivex middle finger
Gourmet x Primitive Quadici "Space Jam!" Exclusive at we Legendary. Perect rain shoes!
Long Live and Death Wish hats plus Koston 1s
Nike SB wall
People couldn't wait!
Zeay and Mackie helping out
Ramp dwellers
The next episode
Mr. and Mrs. we Legendary
Moy's new designation
Kenneth we Legendary
"The Cage"
Man of the hour
Ryan and Jen (Converse)
Mirrela (Vans) and Vans rider Ansey we Legendary
Look at this place
Look!
Jen on the ramp
Nice tees
What did I tell you?
Girlfriends
Akuma with the future
Can't Taft Pusa
Excited to test out the ramp
Two of local skateboarding's most respected
More customers
Mike (Vans)
The crowd outside
Soc (Vans)
Your Daily Dose of Marc
and Bea
Awwwww
I can skate!
Or not.
My glasses broke in half. :(
Hot diggity dog time!
The future
Time for the ribbon cutting!
Snip
Snap
Congratulations we Legendary!
Ceremonial drop in. (me falling on my face doesn't count)
Pushead v2.0 Dunk SB raffle
Presenting the winners
Wendell, Mark and I
More skating
Wendell Vans in the house!
What up B-Roc
wL Loyalists
The best ever
Vans x we Legendary = GAME OVER
Team LMS!
Better Albert than never
Lovebirds set here we go. Lovebirds number 1.
Lovebirds number 2.
Lovebirds number 3.
Miggy (Chicosci) rolled through with Rico Blanco and...
Miss Mae! ♥
La Salle students now know where to go for some kick ass Vans
I fear for their boyfriends
Red Bull in the building!
Thank you
Red Bull Philippines
! Thank you Cola!
Mackie worked hard on this store. He deserves more than 1 can!
Cola
Marc
Red Bull Ladies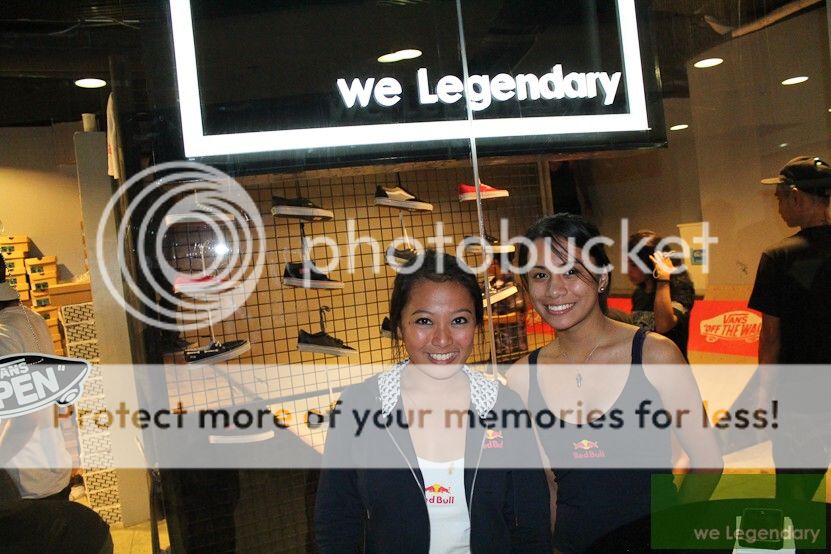 Vrooom!
Women skate too
Late comer Sheed
With Olga
This is we Legendary.
Again... THIS IS WE LEGENDARY.
Big shout outs to all those who rolled through!
Please be aware that the ramp is only for demo and not for public use. It's a skateshop after all and not a skatepark.
Nevertheless, check out the store for the latest Nike SB, Vans, wL and other skateboarding gear.
Animo we Legendary Taft!