| Posted in Converse | Posted on Sunday, March 04, 2012
You think you got what it takes to land a fat contract through skating? Then join this!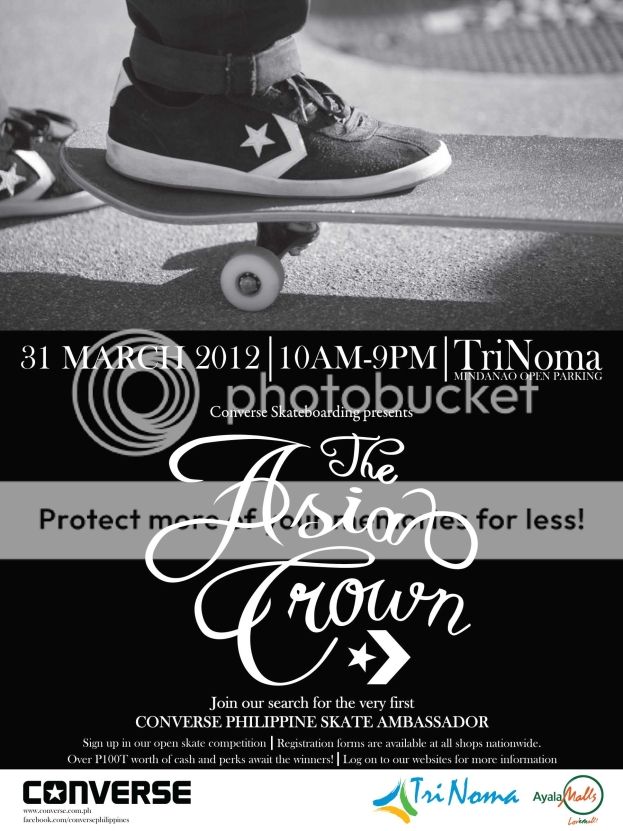 This could be the key to your success.
********
Catering to the best skateboarders around the Metro, the Asia Crown aims to give Filipino skateboarders the chance to show off their dope moves on the board and compete with the best of the best skateboarders across the country.
More than bragging rights, the local Asia Crown skateboarding champion will be hailed as the first official skateboarding ambassador of Converse Philippines—That means a year of Converse skateboarding goodies, P50,000 cold hard cash, and plane tickets to official Converse skateboarding events worldwide.
Open to all, free of charge, the Asia Crown will be a day-long celebration of physical recreation, while fusing music and the arts, while reinforcing Converse Philippines' position as a key proponent of the global sport that is skateboarding,
To join:
- You can download the form HERE or simply visit any Converse store nationwide for registration forms.
- Registration is open to all amateur skateboarders, 16 years old and above.
- For downloaded forms, email the complete form to marketing@converse.com.ph/jmetra@converse.com.ph
- For forms from the store, kindly leave it with store personnel
P.S. If you are a minor, you must have a parent or guardian sign your registration form.
Rules:
•Helmets are mandatory for COMPETITION and PRACTICE and all other safety equipment is strongly recommended.
•Registration forms for athletes under the age of 18 require a parent or legal guardian signature.
•All participants and persons going into the competition area are required to sign a waiver of participant liability.
•We reserve the right to change format as needed to provide the safest and most organized competition.
•No spectators are allowed on the skate area (competition area) at any time for any reason.
•Any participant that repeatedly ignores the rules, warnings or instructions from event staff will be removed from the competition. Profanity or unsportsmanlike conduct will not be tolerated.
Judging:
SKILL 30%
CONSISTENCY 20%
STYLE and ORIGINALITY 30%
VARIETY 20%
TOTAL 100% (duh)

Prizes
Winners will be Converse Philippines' official Skate Ambassadors
Grand Prize :
Ambassador to represent the country in International Converse Skate Events
One (1) year supply of shoes and apparel
P50,000 cash
Runner-Up (2 skaters) :
Half year supply of shoes and apparel
P25,000 cash
********
For updates click on the facebook event page
HERE
.
CONVERSE, Y U NO BRING MY CONS DRESS BLUES HERE!?